Pitch Chart
The pitch, or steepness of a roof, is a critical factor in determining correct snow guards installation. Higher pitched roofs are more prone to avalanche, and that changes the snow retention requirements. 
We have created tools and resources to guide you with the design of your snow retention system. Our quick snow guard spacing guideline page will help you determine the right spacing for your snow guards. 
We have also created this roof pitch chart as a resource for you: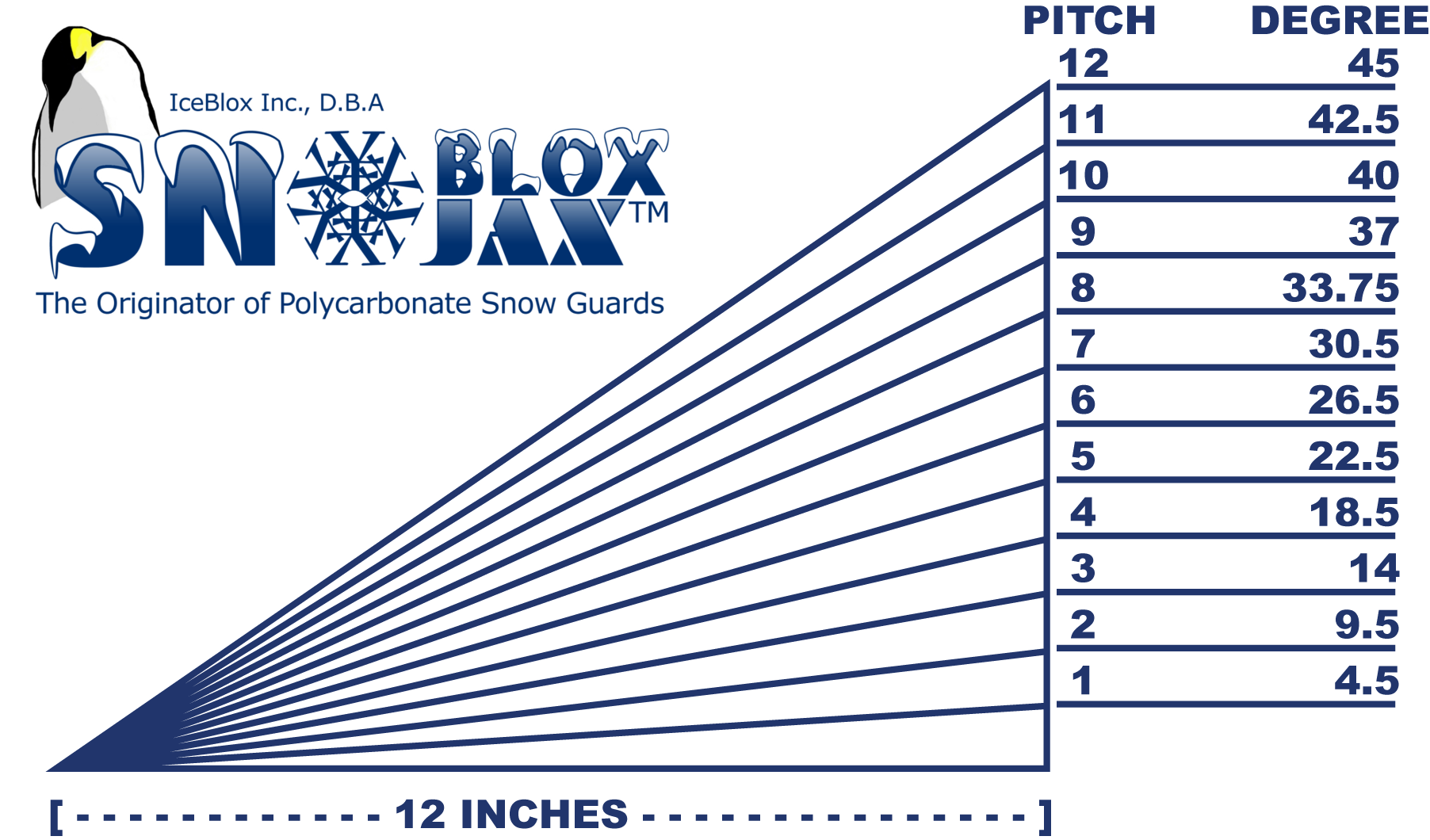 Roof pitch refers to the slope or angle of a roof. It's important because it determines how effectively your roof sheds water and snow. A steeper pitch generally offers better drainage and can enhance the longevity of your roofing system. A steeper roof pitch will shed snow and ice more quickly than a shallow pitch, which can be dangerous without a snow retention system in place.
Roof pitch can be measured in degrees, as a ratio (e.g., 4:12), or as a percentage (e.g., 33%). These measurements indicate how steep or shallow the slope is. Roof pitch is a simple calculation of rise over run. For example a 4" rise and 12" run would be expressed as 4:12.
Steeper roof pitches tend to have a faster and more forceful snow slide when snow accumulates. Therefore, on steep-slope roofs, you often need more snow guards to distribute the load and prevent avalanches of snow. On steep roofs, the guards are usually installed closer together, whereas they may be spaced further apart on shallower-sloped roofs. You can visit our spacing guidelines page for diagrams that help further illustrate this point.
The first place to look, if available, would be on your building's plans. The roof pitch is normally listed on both the roof plan and the elevation drawings. If this is not an option and if you are confident in accessing the roof, you have a few options for measuring this dimension. Many hardware stores will have a version of a digital or analog pitch/slope locator tool which can be rested on the panel to determine the pitch. There are also cellphone apps that work this way. Last but not least, you can use a measuring tape to determine the rise and run.
A roof with any pitch can still pose danger to people or property below. Shallow pitch roofs tend to shed snow and ice differently in more of a creeping motion than a quick avalanche. You will often see large chunks of snow and ice dangling over the edge before releasing. Your roof's snow guard layout will depend on several factors, including your local climate and ground snow load, roofing material, building codes, and roof design. It's advisable to consult with a roofing professional who is familiar with the specific conditions in your area to determine whether snow guards are necessary for your roof.