Posted by Howie Scarboro - National Sales Manager SnoBlox-SnoJax on Oct 10th 2019
I recently spotted a bar system on a major sporting goods store in Georgia. Keep in mind that these roof areas dump onto pedestrians sidewalks at the store entrance. This retailer also uses this sidewalk space to display bulkier outdoor equipment such as kayaks and atv's. This attracts customers to stand in these areas to look at the merchandise on display.
It's very responsible and professional of them to install a snow retention system, however there are some issues with the layout. Fortunately, the snow load rating in this area is very low, but they have had 24" of snow on the ground before. Always calculate your snow guard system based on the maximum snow you could experience in your area, not just what you have experienced in the past couple of years. When speaking with customers about designing snow guard system, I always ask them about the biggest snow storm they ever remember. Many areas only get just a few inches annually, but every few years, they get a big storm that causes serious damage.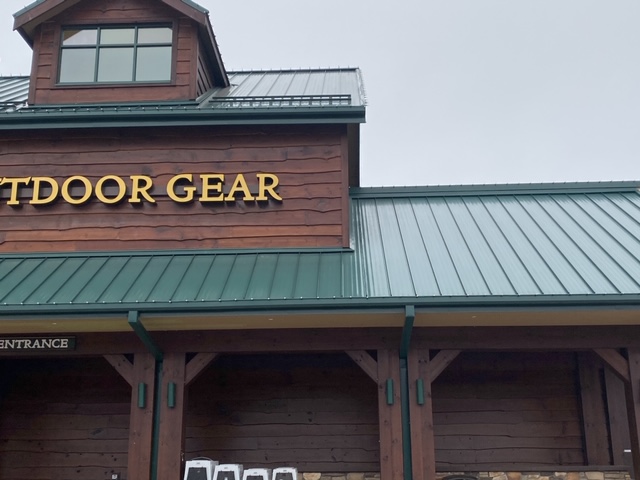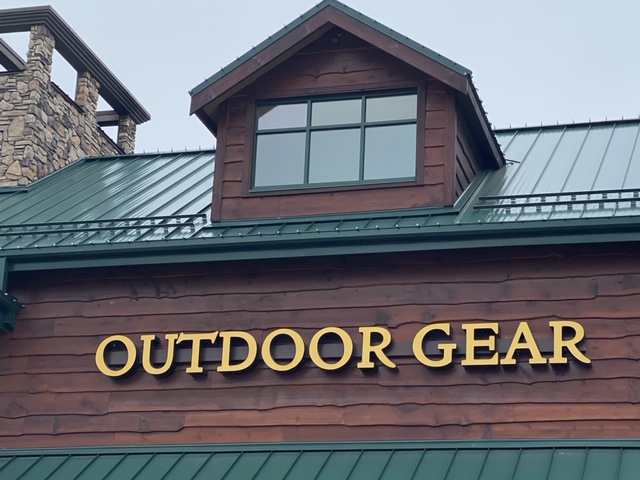 So the first thing that I noticed is that these slopes are steep enough to shed very quickly. I also noticed that the upper roof areas were the only areas with bars installed. The lower roofs are left completely unprotected. A 1" thick sheet of ice sliding off these lower panels could cause some very serious injuries or possible a fatality.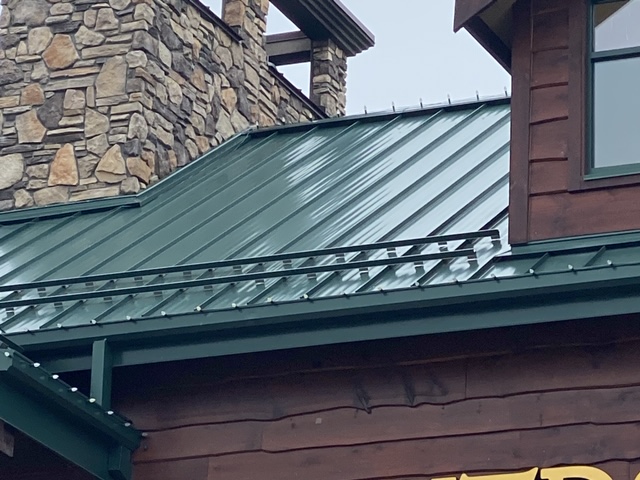 Next thing to consider is that the window dormers above the bar systems were left unprotected, allowing them to freely dump from the higher elevation onto the lower areas. Allowing snow and ice to free fall creates a much higher level of dynamic load that often results in equipment damage. Aside from the inconsistent layout, there is a bigger issue.
All rows of snow retention should be spaced evenly up the slope. Two stacked rows is incredibly inefficient and puts all of the load on the upper row, until it fails. The lower row is properly placed, but the upper row should have been mounted halfway up the slope. This would provide balanced loading on the roof structure and would divide the load between the two rows.
Professionally designed snow guard systems should follow the basic design considerations.
1.Clamps on every seam.
2.Each roof area must be protected in order to prevent dumping onto lower roof areas.
3.The lowest row is located just above the eave, and additional rows are spaced evenly up the slope.
4.Icestoppers are recommended to prevent snow and ice from sliding under the bar.
A professionally designed snow retention system would provide superior protection against employee and customer injuries. This would have greatly reduced the property owner's level of liability exposure.
Contact us if we can advise on your next project, or help bring your current system up to spec to prevent failures.