Posted by Howie Scarboro - National Sales Manager SnoBlox-SnoJax on Jul 15th 2019
Individual seam-mounted snow guards are commonly used on standing seam metal roofs. They are know for their ease of installation and can be installed any time of year. These have been used for decades despite the numerous problems associated with this style of guard. Typical designs don't hold snow well and are often dislodged under load. For decades, SnoBlox-SnoJax has refrained from recommending or even selling this snow retention solution. We are excited to announce that after many years of research and product development, a new product line has been released that actually incorporates a unique fail safe swivel bracket feature. The SnoCleat is our much improved version of the individual seam mounted snow guards available in the marketplace today. It is constructed of aircraft grade aluminum with time proven cup-tip stainless steel set screws that provide positive fastening to almost any standing seam metal roof.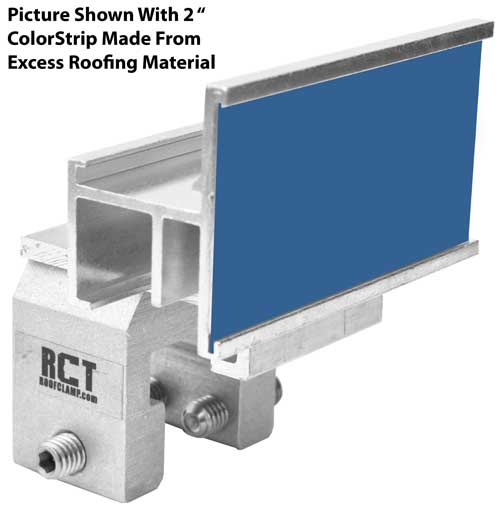 The SnoCleat RCT and RC is a line of standing seam mounted snow guards that can be installed any time of year without penetrating the seams. This product features a large 4" wide face designed to accept a 2"x4" color strip to match your roof. The RCT version fits most standing seams up to 1" wide including bulb seams and t-seams. Interior Clamp Dimensions are 1" Wide X 1.375" High. This is the only seam mounted snow guard product to offer an exclusive swivel bracket that allows for angle adjustment in hips and converging valleys. The torque on the mounting bracket can be adjusted to help protect the seams in the event of a heavy snow and ice impact. The RoofClamp RC and RCT mounting clamps have been shear tested and tensile tested by a nationally known testing lab.