Tested and proven to increase the uplift performance of metal roofs by up to 300%! Also proven to reduce metal roof noise by up to 95% by reducing panel vibration during high winds. WindBar is the only patented system in the United Stated to provide increased wind uplift performance of this level, excellent snow retention performance, and noise reduction all in one easy to install system.
The WindBar system is a series of external purlins mounted with non-penetrating clamps and our patented Windstopper foot. WindBar significantly increases uplift performance while reducing metal roof noise from high winds. Once installed, a square bar spans between clamps, and the Windstopper is attached to the bar over the middle of the panel. The Windstopper foot then holds down the middle of the panel, preventing lift caused by negative wind pressure, which all roofs experience in any wind condition. This can be a great solution for metal roofs located in hurricane prone areas.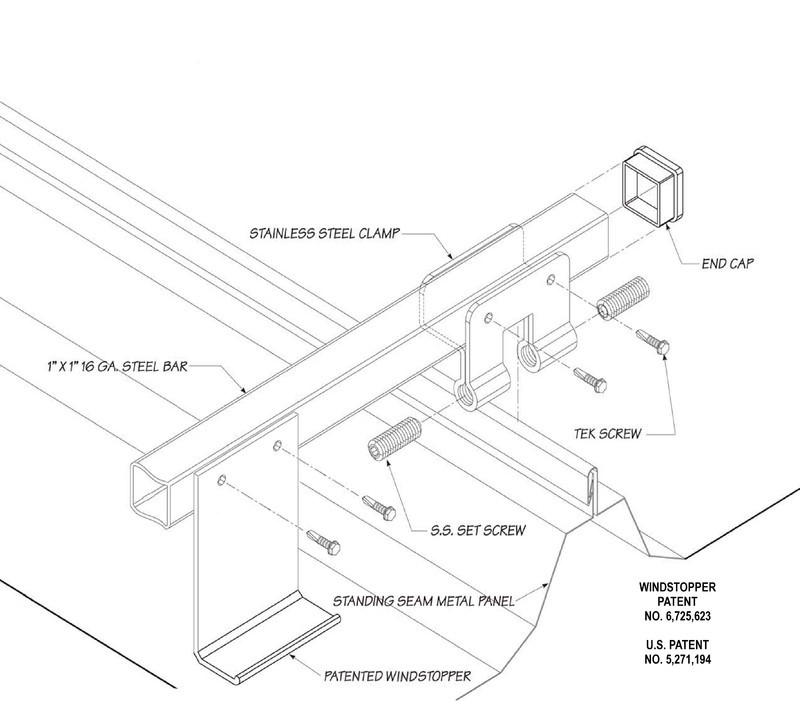 Millions of dollars in metal roof damage occur each year and could easily be avoided with the use of the WindBar system. Effective against damage from coastal winds, micro bursts, hurricanes, tornadoes, etc. WindBar can help your building meet the new tougher ASCE 7-98 wind code guidelines.
The following warranty is made in lieu of all other warranties expressed or implied. Recommendations for proper use of the product are based on tests believed to be reliable. Any goods proven to be defective due to materials will be replaced, or purchase price refunded, but in no event shall the manufacturer be responsible for damages in excess of the purchase price. User shall determine the suitability of the product for its intended use and assumes all risks of its use or handling. 1. All loads incurred by the SnoBar will be transferred to the panels. Therefore, proper panel attachment to substrate/structure is necessary to prevent roof panels from sliding under snow load. New and existing structures must be evaluated to insure they can withstand retained snow loads. (In instances where there is an overhang at the eave edge, it is imperative to make sure that the overhang can hold the accumulated loading, otherwise the first row of SnoBar should occur at the bearing wall.) 2. It is not recommended to place the SnoBar System in isolated areas such as doorways, vents and partial roof areas. Please call for special design considerations in those areas. 3. Consider whether your roof system and/or substrates (felts or membranes) run the risk of ice damming with the addition of this type of system. 4. The SnoBar Clamp System requires the roof panel to be a min. of 24 GA. steel and have a seam height of at least 1". Clamp spacing cannot exceed 24"O.C. Clamp spacing varies dependign on seam spacing (12" o.c. up to 42" o.c). Clamps should be placed at every seam, so that the load is distributed evenly to every roof panel. It is not recommended to use a clamp type system when the roof uses a seperate seam cover or batten. 5. The U-Bracket System requires a purlin or structural support beneath it to mount to. 6. No snow retention system is capable of retaining 100% of snow and ice from falling off the roof. 7. Designer/Arhitect, Installer, or Owner of the project should have knowledge of the local snow loads, climatic conditions, roof slope, roof orientation, and roof design prior to installing SnoBar. 8. After considering the above factors, the determine lineal feet of SnoBar required is based on length of panels, roof slope, snow loading and areas needing protection from falling snow. (Call SnoBlox-SnoJax for clamp and bar loading values.) 9. It is the sole responsibility fo the Designer/Architect, Installer, or Owner to assess the suitability of using the SnoBar System based on the above design considerations. SnoBlox-SnoJax or any or its subsidiaries, or Riddell & Company, Inc and Action Manufacturing are under no liability if failure occurs from improper installation, improper set screw torque, improper panel attachment, improper roof system installation, improper use of the SnoBar system or under designed system placement of the SnoBar system. This is a special-order item, thus All Sales are Final. Sorry, no returns accepted.